Course details
【Mon ~ Thu Limited】 All 6 items including all-you-can-eat homemade roast bee with 2 hours of all-you-can-drink ♪ 3480 yen ⇒2990 yen !!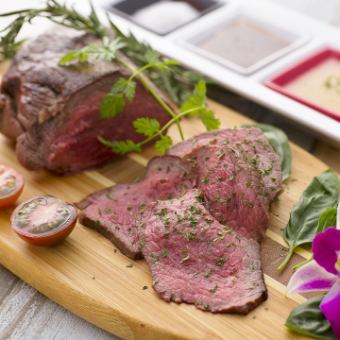 By using a coupon2990 yen
All-you-can-drink available

About 50 kinds of drink menus
Reservation deadline

Coming to the store until the day 16 of the desired date
Available days for reservation

Monday - Thursday
Roast Beef will sell you all you can eat all-you-can-eat Italian course! Limited to 5 pairs a day! Taste the special roast beef, which is not greasy and confined umami, with all three sauces! Recommended for welcome party and girls' society ♪
Course menu
Seasonal amusement
◆ Californian style Poxarada
◆ Mild garlic butter shrimp
◆ All you can eat roast bee ~ 3 kinds of sauce ~
◆ Including squid and choice Salt-grilled soba
◆ dessert
◇ 2 hour free all-you-can-drink (Standard Plan)
【In-store Beer Garden Planning】 You can change to "Premium All-you-can-eat" with plus 500 yen for each course!
"Extra cold" VS "Orion beer".
"Horn High Ball" VS "Freezing High Ball".
Drink and compare!
All-you-can-drink menu
·beer
Clear Asahi Tarutsume
- Zhuhai
· Green apple · Giant peak · Calpis · Peach · Lemon · Lime · Yuzu · Grapefruit
·plum wine
· Soda split · rock · water split
·Sake
· Cooling · Cooling
- Potato shochu, barley shochu
· Rock · Water · Oolong · Green tea split
·wine
SAINT VINCENT (red and white)
·Cocktail
· Gin tonic · Jin back · Screw driver · Cuban river · Cardinal · splitza · cassis Orange · cassis grapefruit · cassis soda · cassis oolong · mango orange · mango soda
·Cocktail
· Reggae Punch · Orange Blossom · Moscommeureur · Bulldog · Shandigafu · Keel · Fuzzy Navble · Peach Soda · Lychee Orange · Lychees Grapefruit · Lycheesoda
·whiskey
· Black Nikka Clear · High Ball
·Soft drink
· Coke · oolong tea · ginger ale · orange juice · green tea
2018/09/05 update